England to Thailand
Southampton to Singapore - The Long Run
Decision made to head off to new climes. Question: How to move 44 tonnes of solid boat 8000 miles? Answer: Contact Peters and May of Southampton who handled the whole procedure in an extremely professional and efficient manner.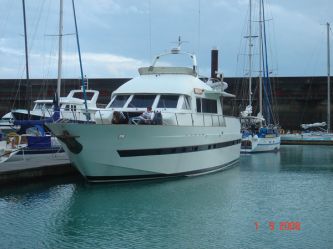 The only problem was to seek out the elusive Maersk Brownsville container ship on which Mabilia was booked to travel as deck cargo. Initially loading was scheduled for Southampton docks, only a short distance from Ocean Village, but it was not to be. Change of cargo manifest and other scheduling meant that the only practical loading point was to be Zeebrugge so on 6th September 2008 Mabilia sailed down Southampton Water for the last time before heading East, out past the forts off Portsmouth and on to Brighton Marina ostensibly for the first night that was to become a week marooned there in ghastly weather. Having made the decision to take her to the South China Seas, I was not prepared to risk her on the first leg in storm force winds and tumultuous seas. The old lady deserved, I felt, far better treatment.
Exactly a week later a window in the weather appeared and we broke cover, crossed the channel to Calais and then on to Ostende where we stayed overnight and were warmly welcomed by the Ostende Yacht Club. The all new Garmin navigation system and Sim-Rad autopilot worked it's magic with pin-point accuracy and buoyed my confidence for the long hours at sea that were to come.
Following morning, we made the short hop along the coast to Zeebrugge and my one and only crew member with me, Rob, enjoyed a splendid meal in a first-rate Belgian hostelry.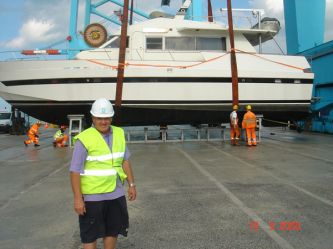 During the night, the Maersk Brownsville slipped into the docks and I was awoken by a call from the shipping line explaining that they had changed the loading sequence yet again and required me alongside within two hours. We quickly made preparations to comply and were alongside the mother-ship within one hour. Maybe I was dreaming but there was an air of great expectancy from us and I almost felt that Mabilia was excited to be going on her new adventure.
To load, eight orange-suited and very friendly Belgian stevedores clambered on board and it was clear that they were very interested in why I was loading her. I guess that it made a break in their usually predictable day of shifting hundreds of 40 x 8 foot boxes. From the skies courtesy of a montrous mobile derrick crane the canvas slings appeared and were threaded under the hull as I manoeuvred to hold her straight on the engines and bow-thruster. The four pairs of stevedores grabbed the slings and held them in position according to my knowledge of the hull, but as a precaution a diver wearing a Captain Nemo style suit complete with brass helmet disappeared under the hull to check that our positioning was precise. It was.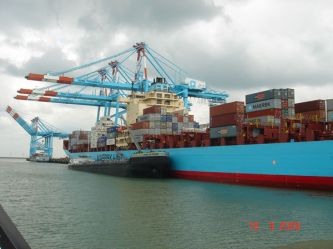 Instructed by the load master on his walkie-talkie the crane driver skillfully took the strain and we were inched alongside the quay for all to leave. I was last to step off her before she left European waters and it felt very strange indeed as some misapprehension struck me for a moment.
Suddenly Mabilia seemingly soared heavenwards at a very rapid rate and then was lowered onto the quayside where the stevedores then assembled a meccano-type modular cradle underneath to support the hull in many areas. The cradle was then strapped to the hull and Mabilia was lifted up and over and to both my amazement and delight, lowered deep into the depths of the hull of the Brownsville to disappear completely out of sight. This was to prove a great advantage as on arrival in Singapore, she was not salt-encrusted or damaged in any way. It was also explained to me that the reason the cost of shipping was high was that wherever they placed her on the ship her size took up the space that could be occupied by 16 x 40 foot plus 16 x 20 foot containers..a total of 32 containers. When it is put into that context you begin to understand the enormity of the undertaking indeed. I did not dwell any longer in Zeebrugge that day. I was happy that she would be taken well care of and I would see her again soon under a whole new skyline.

Singapore to Pattaya
Five weeks after sailing from Zeebrugge, via the notorious Bay of Biscay, through the Straits of Gibraltar, the entire length of the Mediterranean Sea and the through the Suez Canal, the Brownsville crossed the Indian Ocean and took her place in the huge flotilla of vessels anchored outside Singapore to await a vacant berth. I had tracked her progress with mounting fascination on the Internet, and finally she made her way into the dock where Mabilia emerged unscathed and as clean as we had left her. Dock procedures meant that we were not permitted to fire her up alongside until she had been inspected and passed safe, so she was towed by tug to the Royal Singapore Yacht Club where a very lively Captain Rabat supervised her into a welcoming berth where we arrived from Bangkok to take her over once again. The cheery Singapore Immigration Officer cleared us quickly and we were free to leave.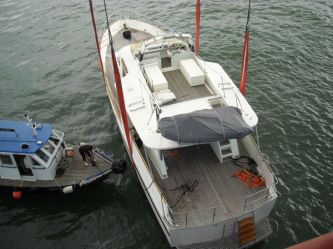 At this point I need to mention that I had already decided not to attempt to tackle what I thought could be an extremely arduous voyage with absolutely no prior experience. Navigating the route was never going to be a problem, but my mind had already been fuelled with tales of piracy, rogue fishing nets and floating debris, lack of fuel and many other unfounded (so I now know) "old wives tales" In my now home town of Pattaya I was recommended to approach the inimitable Bruce Alport at his Jack Tar Bar in Soi 6. I found Bruce to be a hale and hearty Kiwi well into his 60's, but with oodles of ocean experience in Asian waters. I took to him immediately and to my delight he readily agreed to fly down with me to skipper her home to Pattaya.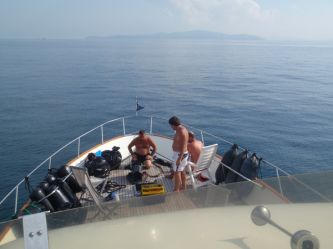 After a day in blazing heat and humidity re-installing the radar dome and aerielsthat we had removed in Zeebrugge to reduce the overall height of Mabilia we were ready to sail, but it did not fit in at all with my perceived first leg that was to take us up the coast of Malaysia to Tionomen Island before nightfall. It was too far to run to make it before dark. I personally have had many, many hours as skipper at night, often in poor conditions, but this was different altogether and a sense of self and boat preservation had set in.
"What's the (expletive) problem with going overnight mate? Piped up Cap'n Bruce. "What about pirates, fishing nets?" I spouted.
"Bulls@*t" came the knowing retort "You've been reading too much c@*p on that (expletive) internet haven't you??!!"
That was the start of a great relationship with Bruce that endures to this day. He was totally confident and steadfast and turned the trip into wholly enjoyable and relaxing experience. My crew therefore was Bruce, two great mates Allen Fowler and Barry Upton and myself. Before leaving Singapore, Allen, also an experienced boater, thoroughly stocked the galley with food and then proceeded to conjure up superb breakfasts and hearty meals that we dined on up on the flybridge and enjoyed many times whilst Mabilia journeyed North up the South China Sea. We had Barry (ex-Brotherhood of Man and resident DJ at the Hammersmith Palais) to entertain us on guitar and regale us with many bad jokes from his expensive repertoire!!
The first leg was 27 hours non-stop. We averaged 11.7 knots over flat calm ocean at an average of 15 miles offshore to arrive at Terranganu marina where we were welcomed by enthusiastic docking staff. A likeable Immigration officer was called, but after we explained that we were just a visiting yacht overnighting so we could take on fuel in the morning, he very courteously offered the suggestion that we could go into the town, but please not to get into any involvement with the police or he too would be in trouble for not booking us in fully. We were very good boys that night.
The following morning, we were assisted by one of the (again) more than helpful marina staff to go to the fishing port and take on diesel. On the approach surrounded by a myriad small colourfully painted fishing boats, Mabilia seemed gargantuan as she slid through them in very shallow water to the rickety (understatement) jetty with one rusting fuel pump perched at an angle. The jovial owner produced a glass jar and squirted a sample of diesel from the nozzle into it for me to inspect. It was very clean but I had already installed a three-stage filter system in Mabilia's fuel lines just in case. We topped up our tanks with 1500 litres as fuel is known to be cheaper in Malaysia than Thailand and were soon on our way out to an uncannily flat calm sea for the next leg to Songkla. En route we occasioned to stop for a while to lose some time so we would arrive at Songkla in daylight. The place we stopped was the island of Redang and has to be the most beautiful place I have ever been on this earth. The beach was picture-perfect white fluffy sand lined with immaculate palm trees. The sand stretched way, way out to sea and there was not a rock nor any plant life under us, just clean white sand. We anchored in 30 feet of "gin-clear" water, so clear that the welded name of the boat on the anchor could be easily read looking down. Simply an island paradise. We launched the tender and went exploring whilst Allen donned his Scuba gear only to come back complaining that "there was nothing to see because it's too perfect!" We could have stayed for days, but our scheduled change of crew later meant that we had to press on to Songkla.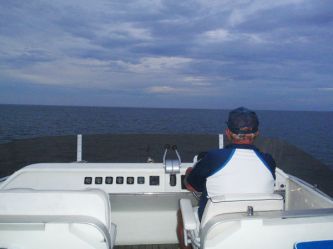 Not much to report about Songkla as it is mainly a commercial port, but the harbour-master very kindly arranged for one of his tugs to come alongside to pump over more fuel for us to continue on to our next port of call.. KohSamui.
Sursprisingly, KohSamui, although now relatively heavily commercialised, still has no marina to boast, so we simply moored off the beach and swam ashore at will in gloriously warm water. To me this is using the boat as it was intended, not just marina-hopping, tying up and retiring too the nearest pub ("nothing wrong with that I hear you say?!"). We spent several totally enjoyable days there whilst Barry left us to fly back to the UK to continue his musical performances, to be replaced by our good friend Steve Murray and Allen's lovable lady Benjamina. At this point the cuisine changed from Allen's excellent input to Ben's top-class Thai food, the like of which I think you will find impossible too better. We were blessed indeed.
The final leg filled me with a most wonderful sense of achievement. A 17-hour home run a straight across the flat calm (again) Bay of Thailand to Pattaya. DearMabilia had rewarded us by not missing a beat the whole distance. We had not one mechanical breakdownor major problem to contend with and all this from a 38 year-old craft that can only speak volumes for the fine craftsmen that built her without a computer in sight. I still have the original draftsman's drawings painstakingly created all those years ago.
Over our journey we had averaged over 11 knots, 66 litres of diesel in total per hour andover 1300 nautical miles. Mabilia now rests resplendent on her berth in Ocean Marina, Pattaya, being extremely well cared for and maintained by our resident skipper Noi who has already developed a great affinity with Mabilia. Sometimes he even lets me drive her!
My grateful thanks go to all who made the voyage so exciting and enjoyable.
The trip of a lifetime!